2023 CCACA & USCCA Joint Conference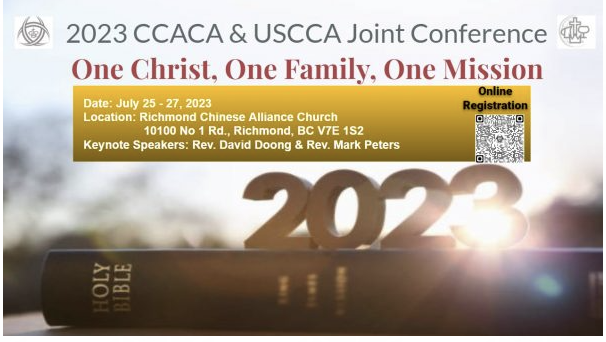 Every four years, the Canadian Chinese Alliance Churches Association (CCACA) and the United States Chinese Church Association (USCCA) join to worship, share, and learn together. This year's conference will be held at Richmond Chinese Alliance Church, and Mark Peters, District Superintendent, will be speaking. We would love to welcome all Chinese Alliance pastors to join in this experience!
Dates: July 25-27, 2023
Location: Richmond Chinese Alliance Church – 10100 No 1 Road Richmond, BC
Registration deadline is June 1, 2023.
2023 Joint Mission Convention
The Joint Missions Convention (JMC) is a gathering that happens every two years. Chinese Alliance churches from all over the country spend a weekend learning and understanding how to engage in missions. Watch the video below to learn more and to get a sense of what you can expect when you attend. Everyone is welcome to join!
Dates: July 28-30, 2023
Location: Evangelical Chinese Bible Church – 5110 Marine Drive Burnaby, BC
Registration deadline is July 1, 2023