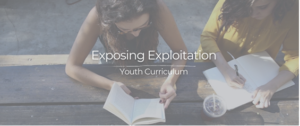 Defend Dignity is relaunching their free Exposing Exploitation youth curriculum!
Who better to educate youth on this issue than youth leaders, teachers, and pastors? You already provide positive relationships, which are foundational to staying free from exploitation! This curriculum equips you to guide teens (ages 13-18) through critical discussions around sexual exploitation from a Canadian perspective. It includes everything you need to present (speaking notes, power points, interactive activities, etc.) and no prior knowledge of exploitation is necessary.
Exposing Exploitation digs into questions like "What is sexual exploitation?", "How do traffickers lure youth?", and "How can youth be empowered to make a difference?"
To obtain a copy of the curriculum or to learn more visit Defend Dignity's website.
Questions? Jenna Scholz would be happy to chat with you!