This is a unique time in history and many are dealing with stress, anxiety, and uncertainty.
YET…we have hope and this is a time of great missional opportunity – we are a mission-focused people!
Tenth Church – Answered Prayers
Since last November, our Family Ministries Team has been actively fasting, praying, dreaming, and planning for how to reach the disengaged youth in our church, specifically that our students would discover their need for Jesus above all else, and their parents would discover or recapture their role as spiritual leaders. We believe that God prompted us to pray those prayers because He knew what was coming – and was getting ready to answer them in a mighty way.
A few weeks ago, we started our youth and young adults ministry back up with a live stream Monday Message, a live stream Wednesday Worship (@creopeople on IGTV and YouTube live), and Zoom Crews (our age-specific small groups). Over the past few weeks, we have seen our attendance double and in some cases triple! And just as encouraging, we have heard from parents about how great it has been to worship alongside their kids at home.
Pragmatically, we know that we've lost our biggest "competition" – extracurriculars – and that we have students' boredom and desire for connection on our side. But we will take it! Our prayer now is that deep relationships with God and one another would be forged in this time and we will see transformed families emerging from their homes when all of this is done, like butterflies emerging from a chrysalis.
Milissa Ewing, Pastor of Family  Ministries
Catlin Allen, Pastor of Student Ministries
Pedro Escamilla, Pastor of Youth Discipleship
Coquitlam Alliance Church – Go & Get Cheerios for All Nations
I've had the privilege of serving alongside our missions team at Coquitlam Alliance when it was announced that churches needed to close down. And while many leaders in different churches began to focus on digital services and fellowships online, I'd like to share my experience innovating in local missions.
Within our church, the missions team is at the forefront of championing the Gospel to unreached and overlooked groups. Over the years, global partnerships have been formed with a number of different projects where our church would not only send resources but people from within our church. But with the advent of travel restrictions and quarantine measures, several projects that for months were covered in prayer in preparation have been put on hold.
Circumstances never change conviction, and with so many folks struggling in our community locally, we sought to address how we could be of service. Our team opted to provide hampers and offer grocery pickups, and we began to work through all the logistics of how to make that happen. What would we communicate on the church website? How would people indicate they need help? What do we want to put in the hampers? What is the turnaround between a request made and a hamper delivered? How do we recruit during quarantine? I love what John Maxwell says about leaders when they find themselves in unique seasons about the need to fail forward, and our team was determined to move forward for Jesus.
The first week felt like we were soldiers being deployed outside of the planned parameters. The goal was 42 hampers, and we identified what were the essential components that we needed to put in the hampers. Every single day for one week, I would hit all the local grocery stores in our neighbourhood acquiring supplies along a route that I needed to make efficient where, by the time my car was full, I'd be at our church to deposit supplies. I would use the digital flyer app on my iPhone to price match and maximize the buying power of our resources. Initially, there was a sense of adventure. What could go wrong?
While the sense of purpose deepened, it got rough personally. The optics were terrible as I'd try to acquire the maximum amount items retail stores would allow, only to have the glaring eyes of other shoppers look at all the supplies in my cart or in the trunk of my car. Customers felt compelled to share what they were thinking believing I was a hoarder. Every single day in every single store, I'd be immersed in comments laced with expletives addressing my character or race. I'd try to explain that the 8 jars of peanut butter in my cart weren't for me but for the hampers our church was assembling, only to have the interaction escalate with people shouting at me with more passion. I never knew that after being born and raised in Toronto, not being able to speak Chinese (except for ordering terribly at dim sum restaurants) that trying to make hampers would become like a contraband smuggling operation. I'd get back into my car with tears in my eyes, wondering if exposing my heart and health like this was of any value.
In the first week, we got the 42 hampers out to those who needed it. Our missions pastor Diane and local missions leader Mary were on top of creating systems and databases with speed and grace, all the while connecting with other leaders and acquiring more resources. Their giftings have shone through brilliantly. Volunteers began to register online indicating they wanted to help assemble or distribute the hampers in need. Reluctant to stay stuck in waves of negativity, I began handing out letters to store managers asking how our church could acquire larger amounts of food. I also networked beyond the retail channel to communicate directly with wholesalers and small businesses for milk and bread. A beloved family in our church who owns a local grocery store partnered with us to get the majority of the items we needed. We've now shipped out around 150 hampers so far, and we're at a stage where we've found a rhythm and are making micro-adjustments to our venture, and we're so much farther than where we were when we first started.
I've learned so much about leadership and chemistry from the missions team, the joy of working hard together towards something bigger than one's self. And while many of us can't wait to get going with church and global missions again, at least in our current season, maybe Jesus wants us to see what He can do when we grab a box of Cheerios for our neighbours.
Justin Yap, Pastor of Care & Hospitality
Stories of Innovation & Creativity
After a warm, insightful, and a theologically rich sermon by Justin Lenny (Spiritual Formation Pastor) at Peace Portal Alliance Church in South Surrey, the Pastor for Local/Global Engagement, Jon LeFave, came up with a follow-up video with missional and service opportunities for the church family that grew out of the message and addressed community needs during the pandemic.
Tenth Church's Oasis Cafe has creatively revamped its ministry due to gathering restrictions and has been able to continue its meal program. The community is taking notice and grateful!
Surrey Alliance Church – Sharing Bibles
A few days ago we were contacted by Surrey Memorial Hospital as many of the patients were asking for Bibles. They did not have any, so they asked for our help. We gave them what we had, but the gentleman called back almost right away saying, "The Bibles are all gone and we did not even get off the first floor! Do you have any more?" So we scrambled to try to find more as a lot of businesses are closed right now. Finally, we were able to secure 60 more Bibles which are being delivered today. So grateful that we can serve in such a simple and tangible way. Let's wash our hands but let's also wash feet and look for ways to serve! God is good! All the time!
Byron O'Neill, Lead Pastor
Fort St. John Alliance Church – United in Pain & Praise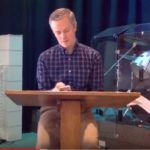 On Palm Sunday, Pastor Andrew McGregor read the story of Jesus' triumphal entry into Jerusalem from Luke 19. He talked about the crowds loudly praising Jesus and then, in the very next verse, we read that Jesus wept over the city of Jerusalem. Andrew pointed out that grief and praise can co-exist.
He then quoted Psalm 13 that begins, "How long, O Lord? Will you forget me forever?" and acknowledged that we are all feeling grief these days. He encouraged the church to do as the Psalm does and express their grief to God by make a list of their losses due to COVID-19. Because the message was live-streamed, he invited listeners to email or text their responses, several of which he read out loud, allowing the congregation to grieve together.
Then he switched gears and finished Psalm 13 which ends with, "But I trust in your unfailing love; my heart rejoices in your salvation. I will sing to the Lord, for he has been good to me." Andrew then encouraged the congregation to write a list of things for which they are thankful. Again, he read several of the responses, allowing the group to praise God together. The responses were powerful, both in number and depth. Though physically separated, the congregation was united in their pain and their praise.
Yarrow Alliance Church – Opportunites & Collaboration
In making our way through calling our entire church database to express care there's a wonderful sense of community growing with so much honest, transparent conversation, and incredible opportunities to pray with people and or/help people out practically – an incredible shift from our overly busy culture/norms to a connected/caring community!  Our mission statement is "Driven by love…" and perhaps we are actually coming into it through this pandemic!
For Good Friday we have collaborated with three churches together and are co-producing online Stations of the Cross service that will be streamed via all three church sites. An amazing opportunity to lighten each other's loads and lend our resources to each other for Jesus and for the sake of our greater community!
Live streaming is now the new norm and we keep hearing testimony from staff and congregants that their co-workers, neighbours, and unchurched friends are logging on and watching church – again – incredible evidence that the Holy Spirit is moving, and people are "checking out" the gospel/church now online whereas before they may have never set foot inside the building!
Praise God for all these experiences and more!
Shawn Vickar, Lead Pastor
Lakewood Alliance Church – Stations of the Cross
One of the benefits of the self-isolating, social distancing realities we're facing is the opportunity to be a bit more creative in how we're doing ministry, and for me, it's been a good push.
As we're preparing for Passion Week at our church, we had to do a re-think of our Good Friday plans, and have landed on doing something I had dreamed about over 10 years ago. For several years, we have set-up a Stations of the Cross event in our sanctuary, which is a self-directed walk through several of the Stations using a guide book and different imagery to help people reflect on the significance of the cross and how it intersects with their life in a holistic way. This year, of course, we won't be inviting people to come join us at the church, but instead are taking our event mobile and sending people around the city to different locations to help them engage with the significance of Jesus' sacrifice for them – for example, spending time by the courthouse as we consider Jesus being condemned for our guilt, and heading to the cemetery to reflect on Jesus dying and being buried.
The idea of a city-wide Stations event is one that has been on my heart for a long time, so I'm excited that we get to adapt and launch it this year. And it's great too that I can share it with some of the other pastors and churches in our city who likewise won't be able to do Good Friday as they originally envisioned.
While the realities of a pandemic have definitely been cause for some amount of anxiety, there is so much God is doing to open my eyes to what is important to him and to consider how we can effectively continue to disciple and equip people to go deeper in Jesus and further on mission.
Blessings on you as you embrace the opportunities God is giving in these days!
Dave Driedger, Lead Pastor
---
Aldergrove Alliance Church – Scrub Caps
One of Tammy Wiebe's friends (retired nurse) put out a call for cotton so that her daughter could make masks and "scrub caps" for nurses at the Abbotsford Regional Hospital as they're having trouble keeping up with everything.
Years ago, Pastor Doug's mom made scrub caps for Doug's dad (an anesthetist at the time), to wear in the operating room. Then she made these scrub caps for the chocolate production staff at Milsean (granddaughter Emily wore one); the staff wore them for years. Anyways, Tammy rummaged around and we found a box full in an upstairs closet. The nurses wore them last night and were gracious enough to send some pictures and allow us to share them with you. It's Pastor Doug's moms birthday today, these pictures were a real gift of encouragement to her, who knew that what was made some time ago could be put to encouraging use in these days. Pray for our nurses, doctors, grocers, police, fire, and ambulance attendants who are all working hard these days.
From Doug Wiebe, Lead Pastor, "…as a result of my mom's "scrub" hats, folks in our church are now beginning to make them for delivery to our two hospitals, just a small but encouraging thing."
---
Peace Portal Alliance Church – A Timely Gift
When Peace Portal Alliance Church reached the debt-free point recently, the church also received a large estate gift soon after, putting the church in a very good position, including with savings, for the first time.
At that point, I began to pray and asked others to pray with me. The topic…"Lord, what do you want us to do with these resources you have blessed us to have right now?" Did God want us to create a new ministry, serve the community in some new way, or prepare for something to come? We were all hearing God say to be patient. Today it is quite obvious that God was providing the church with the needed resources to weather COVID-19 and to bless our community with supports needed to help those suffering its effects.
All praise to God our Father for the richness of His blessings.
Dean Cooper, Pastor of Administration
---
North Shore Alliance Church (NSAC) – "Takin' It to the Streets"
Many congregants have pitched in this week to carry on the mission of Jesus to our city's most vulnerable in the face of COVID-19. As a result of generous gifts of time and money, NSAC has been takin' it to the streets! Some, due to health concerns of their own, took to the phones to contact shut-ins, pray for people, and collect grocery lists. Others braved the stores, purchased groceries, drove around town to deliver them, blessed and prayed for people outside their homes. All at a safe social distance.
COVID-19 has put added strain on our local mental health care workers. So, our people stepped in to do the shopping and deliver a week's worth of groceries to each of the North Shore's Group Homes.
Here are some further highlights:
"We visited out front of her place and read a couple of passages and listened to her fears and requests for prayer. God blessed us in such a huge way as we prayed for her and for our city. She so appreciated the food cards and her beautiful smile warmed our hearts. We also showed her how to listen to church this Sunday."
"I picked him up about a week's supply of groceries. I brought them down to the door and he thanked me for the groceries. We prayed before I left, a prayer for continued healing and protection from the current health threat."
"Groceries delivered. She was doing a happy dance. So, so sweet!"
---
Coquitlam Alliance Church – Birthday Drive-By
Cam Dailly, Youth Pastor, was surprised by a socially distant birthday drive-by. "I woke up yesterday morning thinking, 'Oh man, 30's a big one, but I'm not going to be able to see even my closest family and friends.'"
Click here to see the story on CTV News!
---
Share Your Story!
We would love to connect, inspire, and encourage by sharing stories of what your church is doing missionally during COVID-19. Do you have a short story or an example to share how your church is caring for others in practical ways, connecting creatively, or reaching out into your community?
Please send your stories and examples to Erin at erink@pacificdistrict.ca!